Juvederm Vollure
For treatment of moderate to severe facial wrinkles and folds, such as nasolabial folds.
What is Vollure®?
Vollure is a hyaluronic acid filler from the Juvederm family of products. Released in 2017, it is approved for improvement of laugh lines sometimes referred to as nasolabial folds and lasts up to 18 months. It is a versatile filler best used for mild lines and folds around the lower face.
What makes Vollure® different from other hyaluronic acid fillers?
It has a lower concentration of hyaluronic acid combined with Vycross technology, a means of strongly linking the gel together. This translates into a smooth filler that lasts longer. Additionally, less swelling is typical compared to other fillers, allowing for a quicker return to daily activities.
What is Vycross technology and which products like Vollure® use it?
Three Juvederm products utilize Vycross technology to impart great flexibility and less swelling in tissues of these hyaluronic acid fillers.   The Vycross Juvederm products include the following from least concentrated (lighter product) to highest (more robust structural filler):
Volbella: lowest concentration HA product in Vycross family it provides lip augmentation and treatment of fine lines around the mouth
Vollure: mid-weight or concentration HA product in Vycross family it is best used for layering around the lower face to improve laugh lines, nasolabial folds and marionette lines
Voluma: highest concentration HA product in Vycross family making for a more robust filler with lifting capacity for areas such as the cheeks and midface.
Where is Vollure used in facial treatment?
Vollure is a versatile filler. It may be placed in multiple planes or depths of tissue to provide support and subtle augmentation to facial wrinkles and folds. The best candidates for Vollure are patients with mild to moderate nasolabial folds and marionette lines, although radial cheek lines, and marionette lines are well corrected with Vollure treatment.
How long does Vollure last?
Vollure is FDA-approved for up to 18 months of duration. However, this approval was based off of a study that allowed re-treatment with Vollure during the study. For that reason, the duration may last up to 18 months with multiple syringes of Vollure or frequent re-treatment, but a small amount of Vollure used in a very active area (like around the month) may last closer to 6-12 months in "real-life" use.
Can Vollure be combined with other fillers or procedures?
Yes, Vollure can be combined with other products in the Juvederm family or combined with more complete facial rejuvenation by combining it with structural fillers such as Sculptra. Fillers such as Vollure may be combined with Botox to enhance facial rejuvenation in areas of wrinkles caused by muscle movements.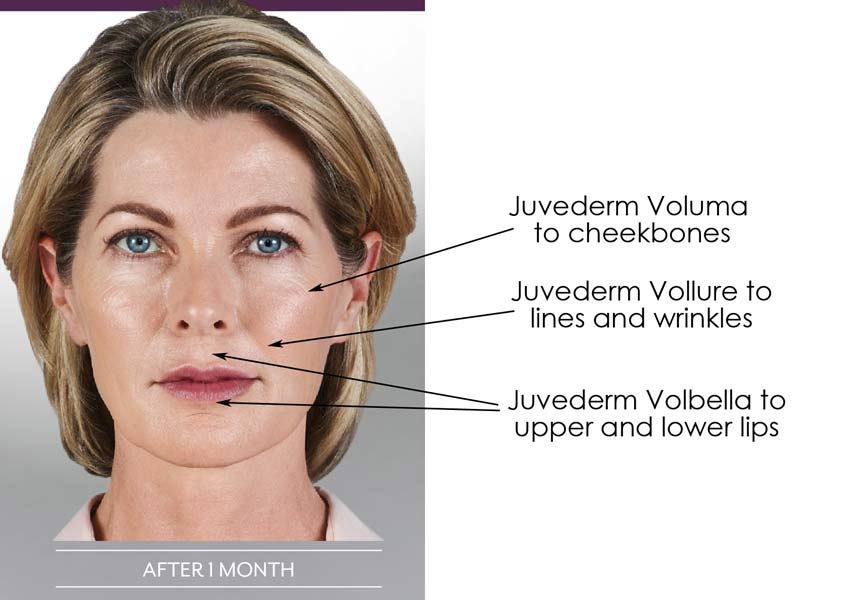 How much downtime is there following Vollure treatment?
Due to its chemical structure and makeup, Vollure may create less swelling in the area of placement compared to other FDA-approved products.   While individual results may vary, most patients experience minimal to mild swelling for a day or two.   Most patients can resume daily social activities within 24-48 hours, if not the same day.
What does the Vollure syringe look like and how much is in the syringe?
Vollure is supplied as a 1 cc syringe (about one-fifth of a teaspoon of product).   It is intended for correcting mild facial folds, such as nasolabial folds. Vollure has a distinctive purple plunger on the syringe that easily distinguishes it from other products.
What is the procedure for Vollure placement like? Does Vollure hurt?
Discomfort is mild during Vollure filler placement. Vollure is supplied with lidocaine already mixed into the hyaluronic acid filler itself, making the area numb as the mouth area is treated. Dr. Lu cares about patient comfort, and she provides various other means of increasing patient ease during the procedure.   Comfort measures include topical numbing, localized numbing blocks if desired (dental block), and an ice pack, which is also provided to the patient for home use. With these pain mitigating measures, Vollure treatment is well-tolerated.